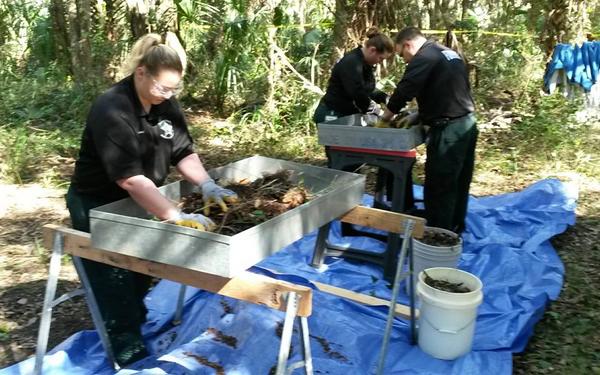 Families of missing people await news about possible ID, but it could take time

By Buster Thompson
Friday, January 30, 2015 at 12:00 am (Updated: January 30, 9:09 am)
Monday night's discovery of human remains inside a wooded area in Homosassa has many relatives of missing loved ones hoping for answers and conclusions.
Citrus County Sheriff's Office
Members of the Citrus County Sheriff's Office forensics unit sift through potential evidence inside a wooded area in Homosassa where human remains were found Monday night.
Special to the Chronicle
Kathleen Howarth, left, embraces her father, George Robert Zelaya, in this undated photo.
"There's been quite a few people tagging a lot" Citrus County Sheriff's Office (CCSO) spokeswoman Rachel Warner said about the CCSO's Facebook site and the reaction of people to the discovery.
The skeletal remains were found un-buried about 150 yards inside the woods, in between South Mason Creek Road and South Garcia Road by someone originally looking for cinder blocks, Warner said.
Authorities on Tuesday confirmed the bones to be human remains.
The search area is being treated as a crime scene and sheriff's forensic crews continue to sift through and scour the area, collecting remains and evidence in hopes of identifying the individual and determining the circumstances leading to the discovery.
The collection is expected to take a few days.
"That process takes a long time," Warner said.
So far, no evidence of foul play has been uncovered. According to Tuesday's CCSO news release, it's still too early in the investigation to determine the gender, age and time of death.
However, that won't keep Kathleen Howarth from praying that her father has finally been found more than 10 years after his disappearance.
"I feel that it's a good chance," she said about concluding the search for 61-year-old George Robert "Skip" Zelaya, her father who went missing on Jan. 13, 2005, in Homosassa.
Zelaya was last seen leaving his Homosassa home on South Sea Otter Path by his ex-wife Paula Zelaya, who lived with him.
Howarth, who lives in Maryland, believes there's a good chance of the remains being those of her father because his home was not far from Monday's discovery.
South Sea Otter Path is a little more than 1,500 feet to the northeast of the scene, according to Google Maps.
Howarth said in a 2012 Chronicle article that her father's watch, keys and cellphone were left on a table at home. Zelaya's white 1988 Lincoln sedan was found in the Homosassa Publix parking lot off of U.S. 19 by his ex-wife a couple days after his disappearance, according to the National Missing and Unidentified Persons System (NamUs).
Inside his car was his wallet.
During the beginning of the search for her father, sheriff's investigators indicated to Howarth her dad might have just walked away, Howarth said. But she said she cannot accept that her dad simply "walked away."
"I don't believe that for one second," she said.
Howarth considers murder a strong possibility, but hasn't ruled out suicide.
"If you committed suicide, you can't hide your body," she said. "We were pretty close and he never spoke of any problems … If it was suicide, I can accept that, but it would just be another heartbreak."
Howarth and her younger sister submitted DNA swabs to a national DNA database at the University of North Texas that collaborates with NamUs to help local law enforcement agencies identify recovered remains.
"There's a good possibility of a match," said Todd Matthews, director of communications and case management with NamUs. "(Zelaya) has a very good profile, good dental detail and his DNA details are being searched. I don't know how else to improve it, but just to wait."
Sheriff's investigators are currently looking through their missing persons' cases for possible matches, but have not yet considered a match.
"Could it be a missing person? Sure," Warner said. "We just don't know."
Once sheriff's forensic crews have finished collecting from the scene, CCSO officials will possibly work with an outside agency to help identify the remains, Warner said.
If the remains are identified as those of her father, Howarth would be relieved, but believes she would never have full closure.
"It would mean a lot … I would know that I could have him, properly bury him — and then from there, what happened?" she said. "But your heart doesn't mend, it's still broken."